Poems and Artwork
LA ESPERA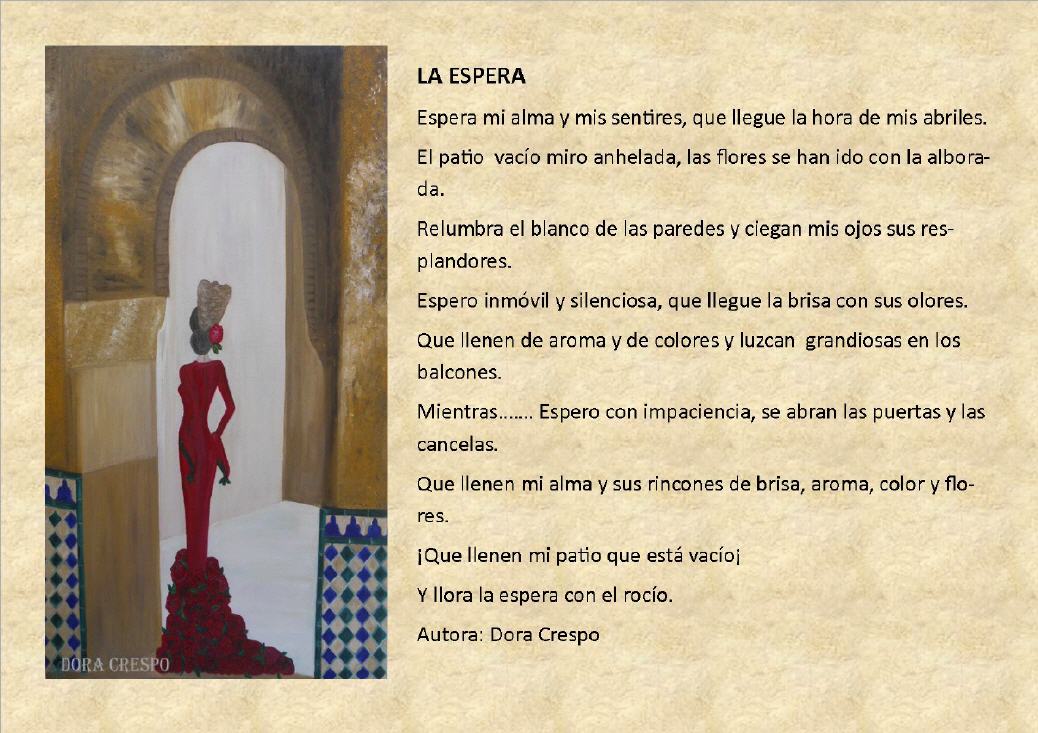 Waiting
WAITING

Wait my soul and my feelings, that will come the time of my youth.

The empty courtyard I watch yearning, the flowers have gone with daybreak..

Flashing up the white of the walls and makes me blind the splendour.

I wait motionless and quite, that comes the breeze of its scents.

That fill up with aroma and colours and shine grandiose on the balconies.

During ... I wait with impatience, that open the doors and the lattices.

For filling up my soul and its corners with breeze, scent, colours and flowers.

That they fill up my empty courtyard!

And weep the waiting with the dew.


Author: Dora Crespo



SOÑANDO EN LOS JARDINES DE LA ALHAMBRA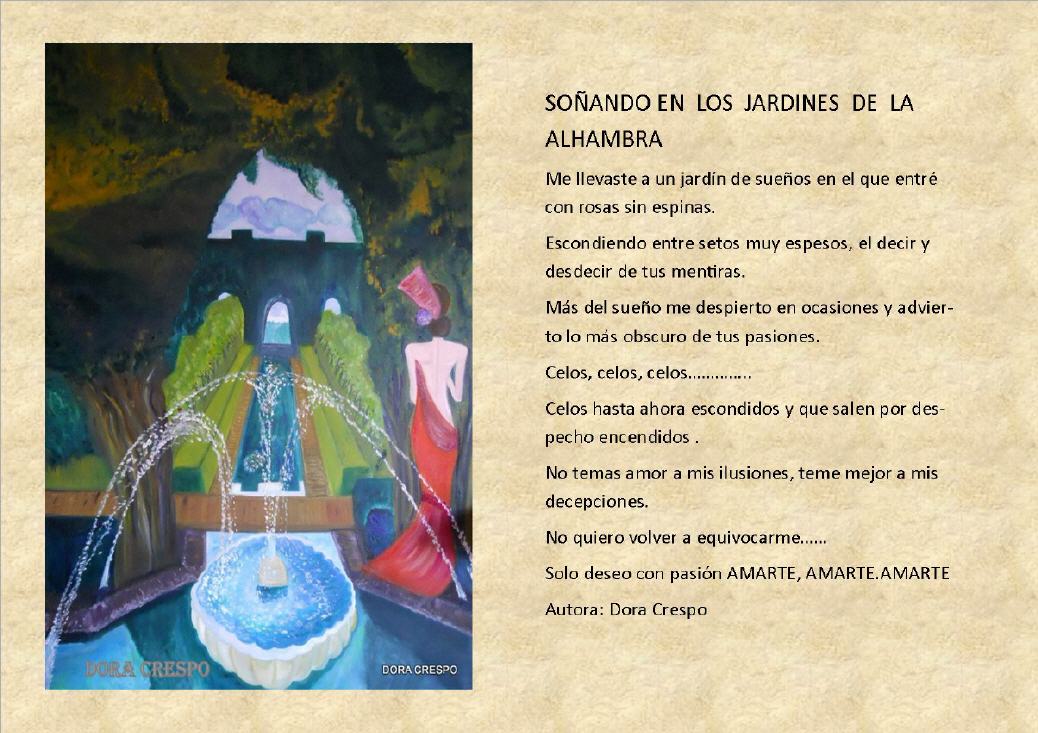 Dreaming in the Gardens of the Alhambra
DREAMING IN THE GARDENS OF THE ALHAMBRA

You have taken me into a garden of dreams in which I entered with roses without thorns.

Hiding behind dense bushes, the saying and contradiction of your lies.

More that I am sleepy, I wake up ocasionally and I notice the darkest of your passions.

Jealousy, jealousy, jealousy ...............

Jealousy until yet hidden and they show up driven to despair.

Don't fear my love my illusions, fear more my desillusions.

I do not like to err again ......

I only desire to love you with passion, love you, love you, love you.


Author: Dora Crespo
LA HONRA DE LA GITANA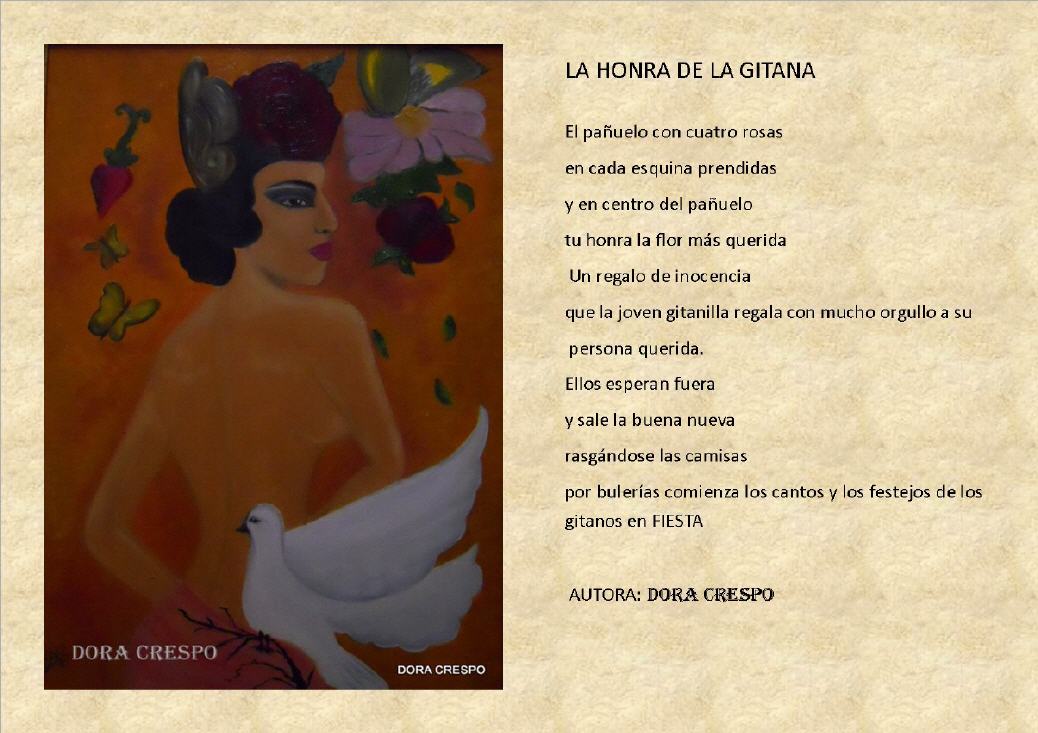 The Gypsy's Honour
THE GYPSY'S HONOUR

The head-scarf with four roses

attached to each corner

and in the center of the scarf

your honour the flower most loved.

A gift of innocence

that the young gypsy gives as a present with much pride

to her favourite person.

They wait outside

and comes out the good new

to tear apart the shirts

with noise and mock start the singing and festivities of the

gypsies in festival.




Author: Dora Crespo
LA ALHAMBRA A LA ATARDECER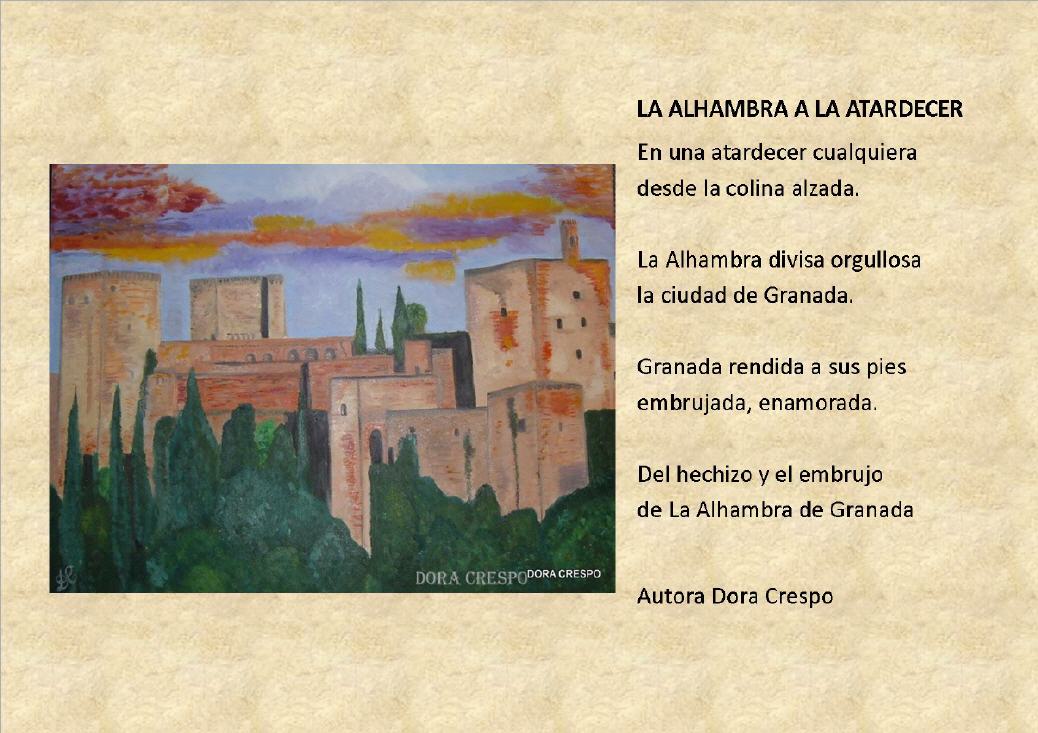 The Alhambra at Dusk
THE ALHAMBRA AT DUSK

At whatever dusk

from the elevated hill.



The Alhambra proudly divides

the city of Granada.



Granada compliant at its feet

bewitched, amorous.



From de spell and magic

of the Alhambra of Granada.



Author: Dora Crespo
EL ENLACE (MI CABALLO LAZLOS)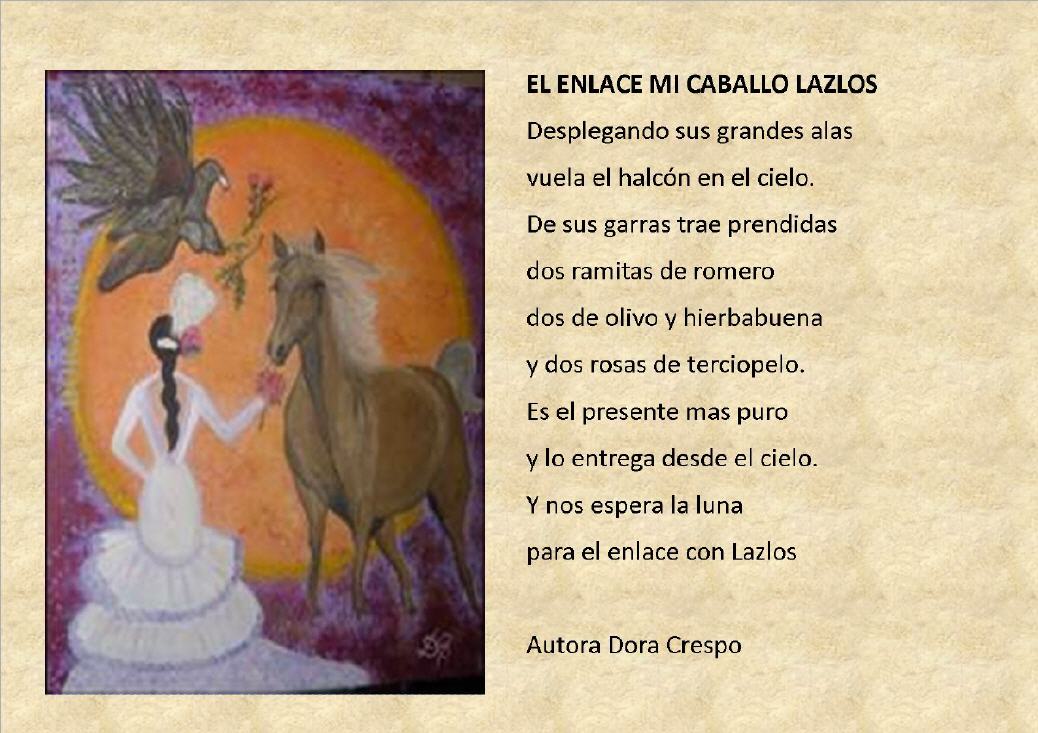 The Connection - My Horse Lazlos
THE CONNECTION - MI HORSE LAZLOS

Unfolding his mighty wings

flies the falcon in the sky.

In its claws brings attached

two branches of rosemary

two of olive and mint

and two velvet roses.

It is the purest present

and it delivers from the sky.

And the moon awaits us

for the reunion with Lazlos.

Video Sonando