Books written by myself (Rolf Waeber)
Books by Rolf Waeber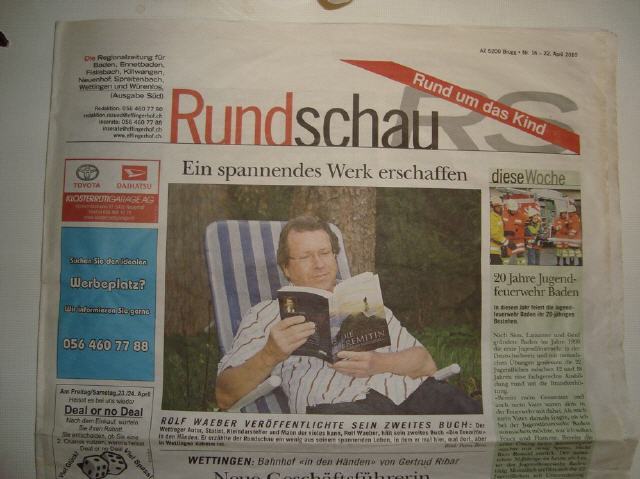 For detailled information go to my webpages:
www.rolfwaeber.com
and
www.rolfwaeber.com/schweiz


I have written four books until now.
The first one is in English,
the other three in German language.

Here the list:

1) An Overview of Extraterrestrial Races - Who is Who in the Greatest Game of History,
2005, Trafford, Canada/USA,
ISBN 1-4120-6360-4, 399 pages,
http://www.rolfwaeber.com/mybooks/published/extraterrestrialraces/index.html

2) Die Eremitin - Wundersame Begegnungen,
2009, Printsystem, Germany,
ISBN-13: 978-3938295250, 470 pages,
http://www.rolfwaeber.com/mybooks/onwork/index.html

3) Die Eremitin - Die Ruinenstadt,
2011, Printsystem, Germany,
ISBN-13: 978-3938295335, 308 pages
http://www.rolfwaeber.com/mybooks/onwork/interview-in-english/index.html

4) Die Eremitin - Die Spurenleserin,
2012, Printsystem, Germany,
ISBN-13: 978-3938295533, 504 pages,
http://www.rolfwaeber.com/schweiz/mybooks/die-eremitin---band3/index.html




The Female Hermit
Synopsis "The Female Hermit" ... ENGLISH and GERMAN



Synopsis:

This is the story of a woman and mother who is in her fifties. She left her home to live in the mountains a spiritual and adventurous live in pure nature:

She always wanted to do the best for everybody; a loving, selfless soul who did not have much in common with the selfish culture in the cities.
She is on the way to her inner self, she discovers immeasurable fountains of power on her way to solitude.
On her journey she encounters again and again barely solvable tasks, which she can solve in a fantastic way with her high intelligence and love to God.
Her fascinating adventures on the glacier and her encounters with beings who be thought no longer exists let her develop her abilities to a very high level.
The surprising happenings on her journey into the unknown challenge her boldness and her outstanding intelligence. She is not frightened of any danger.
Her unlimited love let her manifest wonders and opens unknown realms to her.
In utter need or danger wondrous beings help her.



B A N D 1



Ich möchte gerne meinen neuen Roman der Trilogie: "Die Eremitin" vorstellen:

Synopsis / Abstrakt

Dies ist die Geschichte einer Frau und Mutter in ihren Fünfzigern, welche ihr Zuhause verließ, um in den wilden Bergen im Einklang mit der Natur zu leben:

Maria wollte es immer allen recht machen; eine liebe selbstlose Seele, die nicht viel zu suchen hatte in der Ellbogengesellschaft.
Maria ist auf dem Weg in ihre eigene Mitte, sie entdeckt ihre unermesslichen Kraftquellen auf dem Weg in die Einsamkeit.
Auf ihrer Reise stößt sie immer wieder auf kaum lösbare Aufgaben, welche sie aber mit ihrer Intelligenz und Liebe zu Gott auf phantastische Weise meistern kann.
Ihre faszinierenden Abenteuer auf dem Gletscher und ihre Begegnungen mit verschollen geglaubten Wesen lässt sie reifen.
Die Überraschungen auf ihrer Reise ins Unbekannte fordern ihre Kühnheit und überragende Intelligenz heraus. Sie schreckt vor keinen Gefahren zurück.
Ihre unbegrenzte Liebe lässt sie Wunder vollbringen und öffnet ihr unbekannte Welten.
In der äußersten Not wird ihr von wundersamen Wesen geholfen.


B A N D 2

MARIA UND DIE RUINENSTADT

Band 1: Maria machte sich auf Ihre göttliche Reise in die Berge. Nach vielen wundersamen Erlebnissen wurde ihr durch ein Wunder die Jugend zurückgegeben. Als sie sich nach einem Gletscherabstieg verirrte, lernte sie den schottischen Grafen Bastian kennen. Sie entschloss sich erneut, ein anderes Leben anzufangen und wurde zur Gräfin Mc Oakland…

Band 2: Unter schweren Umständen kann Maria erneut den Terroristen entkommen und genießt in Schottland eine kurze Zeit der Ruhe. In London überstürzen sich die Ereignisse und eine tiefe Erschütterung prüft die ganze Familie. Erneut gelingt es ihr, sich aus den Händen der Terroristen zu befreien und die Reise führt sie in eine unbekannte Region. Sie entdeckt eine Ruinenstadt in Kleinasien. Ein Ort, der unbekannte Gefahren verbirgt aber auch zu erstaunlichen Erkenntnissen führt. Sie gerät hochschwanger im Schwarzen Meer in einen Sturm. Delphine und kleine Wale schützen sie auf der stürmischen Reise... was dann passiert übertrifft alle Erwartungen...