Ivanka Ivanova Pietrek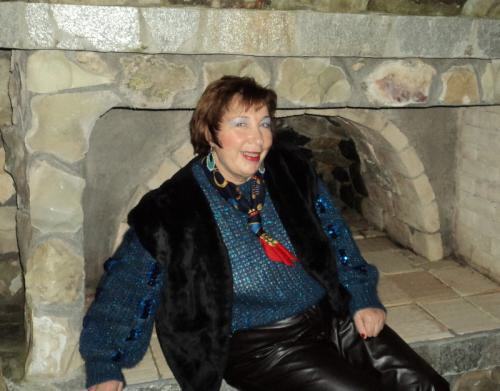 Ivanka Ivanova ist eine innovative, ausdrucksstarke bulgarische Folklore Sängerin aus Pazardjik.
Geboren am 18. Januar 1954
Sie hat mehr als 1.000 authentische Lieder aus ihrer Region gesammelt und zahlreiche Aufnahmen in bulgarischen und deutschen Radios und TV aufgenommen, CDs auch. Mit Ihren Liedern wurden 3 Filme synchronisiert "Excursion To The Bridge Of Frienship", "I Was on Mars" und "Amor Faty."
Sie arbeitete viele Jahre mit der "Schäl Sick Brass Band aus Köln, mit dem türkischen Busuki Orhan Orchester aus Istanbul und der griechischen Hard Rock Metal Band" Spektral Realms."
Sie führte Seminare über bulgarischen Folkloregesang in Deutschland. Ihre 3 CDs werden online von ACM Records New Jersey verkauft, 60 Ihrer Lieder werden als Klingeltöne in Vietnam verbreitet.

Homepage
http://www.songiva.de/

https://myspace.com/ivankaivanovavolksliedern


https://www.youtube.com/user/bulgiva




oum kalsoum - hayart alby maak.mp3
Balkan Jodlerin
Interview
BG
Интервю на Иванка Иванова Питрек в радио "Ачик" Истамбул през 2005 година водено от Муамер Кетенджоолу
с превод на немски.Свалете безплатно и слушайте 2 часа и половина

E
Interview Ivanka Ivanova Pitrek radio "Achik" Istanbul in 2005 led by Muamer Ketendzhoolu
a translation of german. Download free and listen to two hours and a half

DE
Interview Ivanka Ivanova Pitrek Radio "Achik" Istanbul im Jahr 2005 von Muamer Ketendzhoolu geführt
Übersetzung von Deutsch. Download frei und bis zwei Stunden und eine Hälfte zu hören

http://www.4shared.com/mp3/Wh7pzITE/oum_kalsoum_-_hayart_alby_maak.html

Radio in der Schweiz
Bücher der Autorin
WDR Nachtmusik



DE
Ivanka Ivanova and Schäl Sick Brass Band - Live Konzert in Bochum - Lange - Dreher in 19.03.2000 by WDR

E
Ivanka Ivanova and Schäl Sick Brass Band - Live in Concert Bohum - Lange - Dreher in 19.03.2000 by WDR

BG
Иванка Иванова и Schäl Sick Brass Band - На живо в концерт Bohum - Lange - Dreher в 03/19/2000 от WDR

ivanka ivanova and schael sick brass band - live



Ivanka Ivanova and orchester Stara Zagora in transmision Schwesterschen Maritsa-
syster Maritsa-Maritse sestritse by Hessische Rundfunk Frankfurt Germany - april 1991

DE
Ivanka Ivanova und Orchester Stara Zagora in transmision Schwesterschen Maritsa-
syster Maritsa-Maritse vom Hessischen Rundfunk Frankfurt Deutschland sestritse - April 1991

BG
Иванка Иванова и оркестър Стара Загора в предаването Schwesterschen Марица
системи са способни Марица-Maritse sestritse от Hessische Rundfunk Франкфурт Германия - април 1991
ivanka ivanova and orchester stara zagora



E
Ivanka Ivanova and Schael Sick Brass Bend - Karnaval in Cologne - Humba Party in Stadt Garten Cologne for WDR 5 for HR Frankfurt am 03.03.2000.mp3

DE
Ivanka Ivanova und Schäl Sick Brass Bend - Karnaval in Köln - Humba Partei in Stadt Garten Köln WDR 5 für HR Frankfurt am 03.03.2000.mp3

BG
Иванка Иванова и Шел Зик Брас Бенд в Кьолн -Хумба парти в Stadt Garten/Градска градина/ Кьолн за WDR 5 за HR Франкфурт 03.03.2000.mp3
ivanka ivanova and schael sick brass band



BG
Фолклорна плетеница - фолклорно предаване на радио Almatea, Пазарджик от 21.07.1996 - водеща на fнародната Иванка Иванова Pietrek безплатно сваляне на фаила

E
Folklorna pletenitsa - folk transmission of radio Almatea, Pazardgik am 21.07.1996 - leading of folksinger Ivanka Ivanova Pietrek Download file free

DE
Folklorna pletenitsa - Volks Übertragung von Funk Almatea, Pazardgik am 1996.07.21 - führt der Folksänger Ivanka Ivanova Pietrek Download File free

folklorna pletenitsa



BG
Фолклорна плетеница- фолклорно предаване на радио Almatea, Пазарджик; съм 7.28.1996 -а водеща на народната певица Иванка Иванова - безплатно изтегляне на фаила от 4shared.

DE
Folklorna pletenitsa - Volks Übertragung von Funk Almatea, Pazardgik am 1996.07.28 -а führende der Folksänger Ivanka Ivanova - Download file bei 4shared.

E
Folklorna pletenitsa - folk transmission of radio Almatea, Pazardgik am 28.07.1996 -а leading of folksinger Ivanka Ivanova - download file at 4shared.
folklorna pletenitsa 2